One of the best experiences in the world is having a movie night. The art of movies is one of the best experiences that you can have any day of the week.
In Weston, north-west from Downtown Miami, there's the Movie Theater that residents from this area can enjoy. In this article, we'll share 5 reasons why it's great to go and see something on the repertoire. Follow up and see!
1. It's fully renovated
The hall was pretty old recently and it needed a renovation. The whole place was bought by an investor who transformed into something truly fantastic now.
Now, there's a bar up front, and you can enjoy a truly amazing night by yourself or with your friends. It's not just the movie, after all. Everyone likes to go and have fun at the theatre. With the new seats, state of the art sound speakers, and the snacks along, it is one of the best things you can do in the area.
In short, if you've ever been to the old one, you'll have a hard time recognizing the place now after it received a complete makeover.
2. It's mind sparkling
Going to the movies and seeing a film provokes your imagination and makes you think. It opens new views about the world and makes you think about them. Learn more about this here.
It's a great way of learning new stuff and then discuss them with others. The more films you see, the more understanding of the movie industry you'll have. Having more interests in life can be highly beneficial for your personal development.
We live in a time when most of the things fill us up with information but does not make us think more thoroughly about the issues. Books and movies do the opposite. They are mind starters and will add to your development.
3. Offers quality spent time
Having your friends, family, or partners mean doing something interesting from time to time. What is better than going all together to the cinema?
It's way better than doing anything else. Like going to ball games, or anything else for that matter. Movies keep everyone busy and quiet for an hour or two, but after that, it allows spending even better time by talking about what you've all seen on the screen.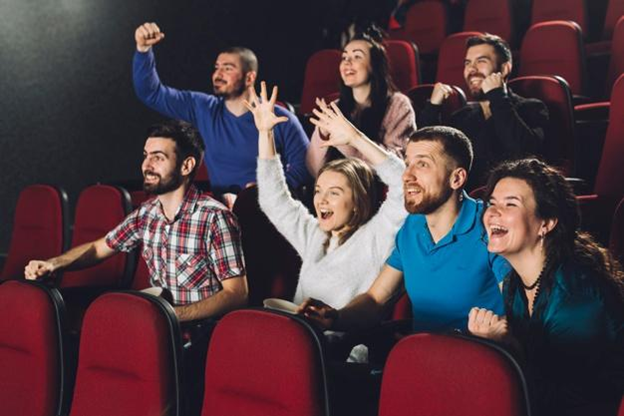 4. Provides a real enjoyment in the art of cinema
Watching a film at home is completely different than doing it in a professional theatre where everything is made differently. The cinemas are generally made by standards to provide the best watching experience.
The sound speakers are placed on strategic places to create a surrounding atmosphere, and the screen is bigger than any TV device you can have in your home. Here is a Weston 8 review to show you how things look at this cinema.
5. It's a conversation starter
Like we mentioned, after the film, you can spend even more time talking about what you've seen. If you're going to a movie night with a date, you'll certainly struggle with finding good topics to talk about.
This is a perfect way to keep the conversation going and express your fillings about the things you've both seen.
In a way, this is a great way to make a plan about how to spend the date with the person you like. When the movie is over, you can go to a restaurant, order something nice, and talk about what you've seen on the screen for hours. This will certainly open up new topics, and you'll spend a great time with the person you fancy.
Conclusion
These 5 points tell you how cool the new place is and how great you can spend time while you're there. Order something tasty from the bar, get comfortable in your favorite seat, and enjoy the projection on the super big screen. Also, make sure you don't jump off the seats when you hear the tremendous sound from the surround system. See more about surround systems here: https://en.wikipedia.org/wiki/Surround_sound.
The best entertainment in Weston is this one and there's no question about it. Choose the title that's best for you and have fun.